Battle of the Swedish captains
Lineups per Hf Boards

D. Sedin - H. Sedin - Burrows
Higgins - Kesler - Hansen
Raymond - Hodgson - Malhotra
Sweatt - Lapierre - Weise

Hamhuis - Bieksa
Edler - Salo
Ballard - Rome

Luongo
Michalek - Spezza - Daugavins
Foligno - Regin - Alfredsson
Condra - Smith - Neil
Greening - Winchester - Butler
Cowen Karlsson
Phillips Lee
Rundlbad Carkner
Anderson
Vancouver key injuries - Booth, Volpatti
Ottawa key injuries - Don't see any
@News1130Sports
Canucks practise at the Civic Centre today in OTT in honour of inaugural Senators coach Rick Bowness.

@sportsnetmurph
#canucks showing Rick Bowness's 1st win as head coach of #Senators on big screen at Civic Centre. Draws big laughs from coaches and players.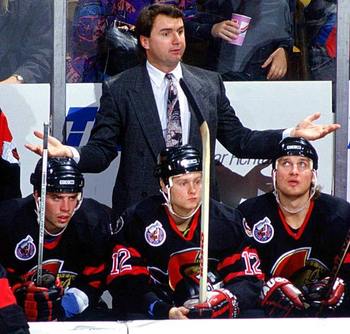 No Leaves or Habs for the early game tonight so buy extra food while you're out, apocalypse is coming.